In the world of working professionals and busy lives, it is no wonder we spend a large portion of our time on our PC's and more importantly, our phones. With that in mind, we have put together a list of some of the most useful Wedding Planning Applications you can download. Some are free and some cost only a few dollars! Check them out and make your planning process organized and easier!
  Twitter: (free) There are a few different options available for your twittering convenience. PocketTweets and Twitterrific. If you haven't been introduced to the twittering world. there is no time opportunity like the present to acclimate yourself. Have friends and families sign up for their own twitter accounts and follow you for real time updates, posted pictures, and announcements from you and your fiancé. They can replay to your posts, comment, or ask pertinent questions regarding your wedding plans! Or search the Twitter world for information and advice using the "#" symbol. For instance if you want to learn more about Savannah, GA weddings you would write @SavannahWeddings and any tweets containing information would come up! Confused? That is ok..here is a great article explain what I am talking about! http://tweeternet.com/
iWedding Deluxe: (Just Released! $7.99) plan every little detail about your wedding with iWedding. Track  your  RSVPs with guest lists, meal choices, seating arrangements and contact information. Let the budget analysis keep you on budget. Integrate your contacts with your address book. Keep a record of all payments, total costs, and information for all of your vendors. They even have pre-installed to-do lists that you can customize or delete if you don't need them.

My Wedding: (3.99) This app is a great organization tool to manage every aspect of your wedding event to make sure nothing gets neglected. My Wedding has all of the ever so important tracking of vendors, budget, guests lists and the new "Ask Me" feature where you can ask a question and it acts like a Magic 8 Ball. However, you cannot import your contacts into the guest list portion of this application with this application but they are working on it!  (Also available for Blackberry)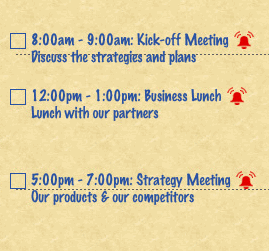 Organizer: (free) There are a great many versions of this type of app to pick from. The task management tool for iPhone enables you to stay on track with appointments and "To Do" lists to help you become more organized. You can set your phone to notify you when an item is due for payment, an appointment time, or an every so important decision needs to be made.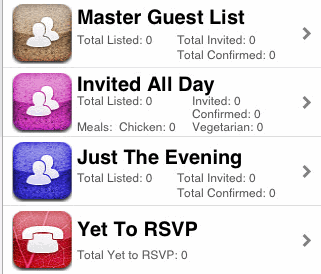 Wedding List: (2.99) The Wedding List makes it easy for you to manage your guest list like a pro. You can upload your whole list and then track who has RSVP'd, who has yet to RSVP and who is coming for a portion of the day and their meal choices to boot!
Wedding Wire: (free) This is one of the best I have seen yet! Not only will this allow you to research, get contact information, and pick actual vendors in the area you want to get married in, it allows you to create your "To Do" lists, budget watch, and sync to your planning platform site. If you haven't checked out Wedding Wire it is the where to guide for the best vendors and the reviews for each!
TheWedLink: The app allows bridal couples to announce their engagement on their own website, plan their wedding through a comprehensive to-do list, and discover local wedding planners and other vendors to hire.
Bride Guide: (4.99) if you only need one app that can handle it all, this is the one. Tons of features including a countdown timer, to-do lists, budget calculator, and tons of informative articles that will take you from I will to I do.
Gotta Etsy :(.99)You are going to love this app!  Etsy is the on-line source for all things handmade – and there are a ton of different wedding related items from custom letterpress invitations and save the date cards, to ring pillows, table numbers, favors, cute packaging, veils, and much more.  If you cant find what you are looking for..post a alchemy request and spell out exactly what you want or are looking for and watch the proposals and quotes flow in!
Nike Training Club: (free) Train like an athlete with the NikeWomen Training Club. Create a personalized training program you can access anytime. Customize your workouts, invite your friends, and watch training videos. This exercise app focuses on the five areas of athleticism: cardio, core, strength, balance, and flexibility.
WeatherBug: (free) This app does more than the standard weather application that comes on your iPhone: like vide0 forecasts, radar maps, current humidity, and much more.  (Also available for Blackberry)
Wedding Anniversaries: (free) – this app will help you for years after your wedding! Wedding Anniversaries tells you what the perfect gift are for your 1, 5, 10 and 20+ year anniversary.
Sunrise Sunset: (.99) Want to know the best time for pictures? Maybe you want your ceremony to happen while the sun is setting? Or you just want to know when the sunrise and sunset times are…well this easy to use application will display the sunrise, sunset, dawn, solar noon, and dusk using your built in GPS for the location where you are currently or enter your own custom location.
Yoga Trainer lite: (free) – This is the free version – but there is also a paid version – Learn Yoga at your own pace. From beginner to advanced levels. Customize the sequences, video guides, voice and step by step pose instructions.
Amazon Mobile: (free) As everyone knows, Amazon  is the most comprehensive on-line shopping site on the internet. Create a wish list and share it with friends and family. Use it just like a bridal registry. Guests can even order gifts right from your wish list, and send them to you with a gift card.
iBridal Gown: (3.99) Designed by a bridal salon owner, this app will help you in your search for the perfect wedding gown. This app will also help you understand all the jargon bridal salons use such as "Mermaid" and "Empire Waist" style dresses. As you visit bridal salons you enter info about the different dresses you love. Your favorite dresses are stored in an easy to use list, where you can view details, pictures, and even directions back to the store with your perfect dress.
TheKnot wedding 911: (free) This app was designed by the editors at the Knot magazine and the Knot.com and serves as the go to place to get instant answers from other brides-to-be or wedding experts.  Post pictures, questions or give advice yourself!
Google: (free and usually comes on your phone) All you want to know and more for your searching needs! Google has a great many features for your wedding planning needs. Search images, create a calendar and "to do" list, group contacts, email with gmail, or simple Google what you want to know!  This site will do just about anything you need! (Also available on Blackberry)   
Flickr: (free) Search photos and videos on Flickr for just about anything! Want to find pictures of purple and green bouquets? Simply search for just that! Thousands of users upload their photos and geo-tag them so users can find what you want to see! You too, can create an account, take, tag, upload and share your photos as well!  (Also available on Blackberry)
TheBible: (9.99) – There are tons of different Bible apps for the iPhone. –Don't know what to have read for your scripture readings…well, this app is easy to search, navigate, and add comments to your favorite passages. 
iTunes: (free-comes on your iPhone) – download songs, and create playlists of your favorite wedding songs. Of course this is no substitution for a professional DJ or a live band, but it does provide some great music for getting ready, or so you can share ideas with your DJ.
Maps: (free-comes on your iPhone) – There are some powerful features to the built in map program – When you are visiting a venue, use the drop a pin feature to note the location then add it to your contacts. You can get directions from your hotel to the venue, and reception and send them to friends so they don't get lost, too. You can even check traffic patterns so you don't get stuck. My favorite and the most progressive and accurate is GOOGLE Maps. (Also available on Blackberry)
Contacts: (free-comes on your iPhone) Stay organized with all your vendors. Names, addresses (and links to maps) websites, and notes are all just a few taps away. Create groups to take it to the next level. (Also available on Blackberry)
Banking Apps: (free) Most all large banks have mobile applications (Bank of America, Chase, Citibank, USAA, and even Paypal) will help you keep track of your finances and stay on budget. Check your balances to make sure you have the funds in your account and check when checks/deposits have cleared. (Also available for Blackberry)