To me….when a couple decide to go a little "out of the " with their details and decor, are those weddings that really stick out in my mind and that conjure up the most excitement with their guests. With that said, each week I will highlight some fun and tasteful ways to do just that. Today is Day 1 of  LAPEL ART….
Now, unless you are wearing a military uniform, you will find your bride asking you what kind of "boutonniere" you want to wear. I know, I know….a WHAT?!?!?!? Morgan….a boutonniere guys…it sounds much more intense than what it is. When I get this question (or the puzzled look during the floral consults from the groom) I merely respond…"the little flower you wear on your lapel." and I see that little light bulb goes on! With today's weddings, you don't necessarily have to wear flowers anymore. There are so many options out there that will set you apart from the others…and keep you "out of the box" Lets take a look at a few:
Fabric Fun:
These fabulous fabric flowers are from Rosy Little Things and Bella Dia…but you can make your own for a fraction of the cost and by doing so you have the ability to customize the fabric and colors to go with your theme or wedding colors. Another fun route would be the zipper flower. This one shown is from Kate Cusack, which retail for over $80, but you can make them for the cost of a
zipper and a glue gun. Your local fabric stores carry a variety of colors and lengths of zippers. Martha Stewart recently had someone on her show that gave step by step instructions on how to create these unique flowers. Not to mention your bride can always use these after the wedding…( Hair flowers, belt accents, a broach)
Or….maybe you want to go the somewhat traditional route by finding some great pocket handkerchiefs (aka pocket squares) to accompany your suit or tux. Below are just a few ideas on how to really make a statement with a small piece of fabric! Don't be afraid of patterns, color or texture! Remember this is taking the place of a colorful flower..you don't want it to look like an after-thought! If you aren't familiar with all the pocket folds, ask your wedding planner or search online for examples. You will be surprised with how many options there are!
And if you are really handy with a sewing machine…try these ideas from Martha Stewart!
Eco-Friendly:
If you are planning a garden wedding  or your ceremony and reception are taking place outside for the most part than you might like to try incorporating herbs into various parts of your decor. InStyle features the use mint in the boutonniere, but rosemary and sage are other great alternatives. Don't like herbs? Then try some wheatgrass, bear grass, or some sticks.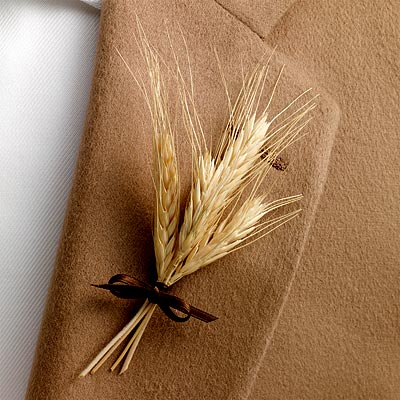 A Shore Thing:
Out of all the weddings I have done throughout my career…I have yet to have the pleasure of doing a beach themed one. But none-the-less I am in love with the idea of using shells or coral in lieu of flowers for a boutonniere to go with the theme. If a walk on the beach doesn't provide what you are looking for, there are a great many websites and local craft stores that probably will. Be creative…the oceans the limit! Photos from BHG, MS and In Style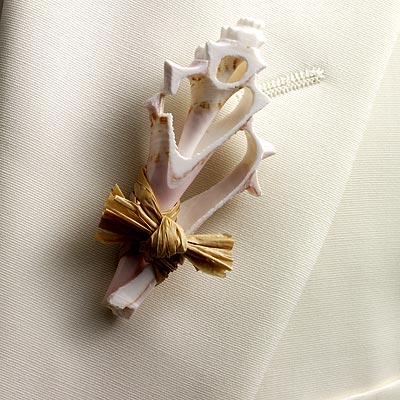 Button, Button, Who's got the Button?
Who would have thought? If you haven't yet, you have to check out Etsy. This site allows all those with a creative background to display and sell their ideas to others. These buttons are from one Etsy seller. She can customize color and look to fit your wedding. The picture on the left was for a vintage inspired wedding. Want something that resembles flowers…then try this DIY  project from Martha Stewart and flower buttons!
A Good Cause:
Last for tonight, but certainly not least, is one of  my favorite ideas (that my husband came up with) is using the ribbon of your selected charity proudly displayed on your lapel! What a great way to make a statement and if you want to take it a step further; donate the amount you would have spent on your bouts to that charity.
Check back tomorrow for some really UNIQUE ideas and day 2 of lapel art: